Merlin's Kick Off 2007/2008 Sticker Collection
This is the abbreviated version of the usual Premier League sticker collection. Merlin's Kick Off 2008 Official Sticker Collection does away with many of the features of the Premier Leauge album, with only 230 stickers, no club shinys, teams, star players or other additional football stickers.
The teams are all arranged over a single double page spread, consisting of just the starting eleven. Each player has statistics below them, passes, tackles, blocks and clearences for the defenders and passes, tackling, shots and assists for the forwards.
The 2008 edition includes a brief paragraph on each club, a player cutout sticker with a small bit of blurb to go with it. Also present is a quote from the club manager.
Information from the www.footballstickipedia.com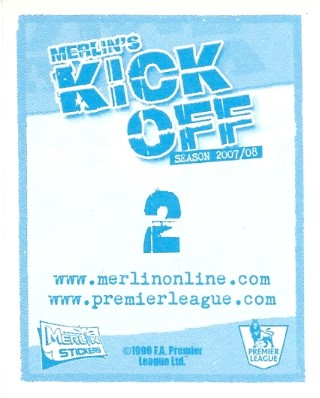 Sticker Book & Packet